There was a marathon of seasons 1 and 2 of The Walking Dead this weekend. Kyle and I hadn't seen the second season, so we were looking forward to it, even though I totally forgot until around noon on Saturday when someone reminded me it was going on. Anyway, it was awesome. I guess this is a world where nobody had heard of zombies? Or else you'd think they'd just call them zombies. Also, a lot of people get hurt from non-zombie related incidents, and that is frustrating, but oh well.
Kyle has been on a weird Army schedule with night guard shifts, and so the days/nights kind of blurr and sleep is more sporadic, meals together less frequent. I am not a fan but I'll take this over Afghanistan any blurry day/night!
Also, the city of Temple (where we live) was
declared to be in a state of disaster
early yesterday, as power was lost at the water treatment plant and they could not make our water safe. I learned this the hard way, as I went out to do some errands and bring back Subway for us before Kyle went to work, only to discover everything (though Target was open, so yes I went there) was closed until further notice due to there not being any water. At this point power has resumed I guess but they are not yet fully functioning, so we are still on a level 3 water restriction (basically don't water your lawns, people) and are told to boil our water before consuming it. Thankfully I have one of those extra large brita filters in the fridge so I haven't had to do that yet. Weird stuff.
On to the 15 Day Challenge! Thank you to
Sar
for hosting this; it has been a lot of fun so far! :)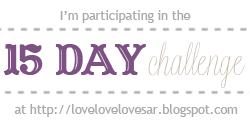 Describe the best day of your life to date.
I hope I'm not the only one who can't/isn't picking one day, but I think picking one whole 24 hour day out of all the days of my life is a difficult task! I think it is easier to think of life in terms of events and happenings, a series of ups and downs, regardless of whether it lasted a day or a few hours or a month. Some great times lately have been: getting into
grad school
,
our first Christmas
together in
our first house
together right after
Kyle got back from Iraq
, getting married, the
kittens joining our family
as little 7-week olds, and
our wedding celebration
a few weeks ago!
-Mrs. M