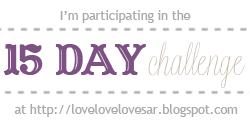 What's your favorite childhood memory?
Times like these you really have to focus on the good in your life. My family at home is in an unexplained and sudden state of unwraveling, and I am just glad that I've got my brothers and sister, and my own little family started here to depend on and keep me sane. I don't think I have the emotions or energy to spare sorting through my childhood to come up with my favorite memory, but here is a picture of little ol' me, on my fourth birthday in July 1992. We had just moved from Canada to California not too long before, and we were celebrating my birthday in Sunnyvale.
I'm looking forward to tomorrows prompt, so I'll be back with a more substantial post then! I may have something wedding related for you later today, also. Happy Fourth of July, friends! :)
S.